Ukraine is among the top 5 destinations for IT outsourcing despite the war in 2022. 
According to research IT Ukraine Associate, in the first half of this year, the Ukrainian IT companies have maintained profits and increased software exports by 23% compared to the same period in 2021. 
Nowadays, more than 200,000 IT specialists work in Ukraine, and 36% of them have from five to ten years of experience. At the same time, Ukraine is exceptionally financially attractive. "Statista" analyzed those outsourcing employees to Ukraine is 300% more profitable than direct hiring in the USA.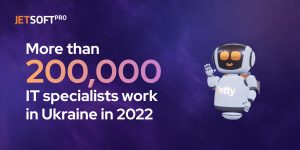 When a company chooses a contractor, it primarily pays attention to the cost of services. 
But several other factors influence the decision: 
simple communication and fluent English;

 

appropriate legislation that neutralizes risks for the customer;

 

close culture for better understanding of tasks and more accessible work on the project

 

convenient time for daily meetings (proximity in time zone). 

 
Ukraine has all these advantages listed above. Even in the USA, where the time difference is quite noticeable, Ukrainian developers communicate for 3-4 hours a day, which is enough for competent management.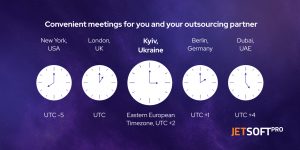 At the beginning of the year, when Russia invaded Ukraine, some businesses suspended contracts. But in less than a month, Ukrainian developers showed themselves as strong and flexible. Most of them moved to more safe areas, and others equipped workplaces in shelters and don't miss calls even during an air alert. Most importantly, the Ukrainian Armed Forces have shown that they can be trusted, and victory is a matter of time. 
We were probably fortunate with our customers and partners because none of them has withdrawn from cooperation since the beginning of the war. Instead, we have received more than 30 new ones! 
From our side, JetSoftPro can guarantee the stability of the process. 
Here are the reasons that, based on the example of JetSoftPro, will assure you that cooperating with Ukrainian developers is not only safe but also profitable.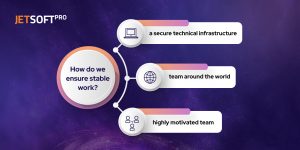 We have a secure technical infrastructure. It is a reliable remote server with secure access from anywhere worldwide. So, our employees need only a laptop to continue working on your project with high quality, in case they have to move again (although we don't expect it).

 

Our team works worldwide. We have set up processes to replace individual team players if needed. However, this did not happen in the first eight months of the war.

 

Ukrainians are highly motivated to work well because 80% of them donate part of their monthly salary to help victims of the war and to support the army.

 

Ukraine is determined to become an attractive business center worldwide after its victory. In particular, it means large capital inflows later on.

 
More than 200 clients, with whom we have worked and continue to keep in touch, can confirm that working with JetSoftPro is safe, convenient and profitable.