According to Imagination, 90% of employees feel burdened with repetitive and boring tasks that can be easily automated with software. At the same time, Timesheet Killer reports that the cost of wasting time on distractions is approximately $650 billion annually in the United States. 
Therefore, effective business automation tools are crucial for the success of every business.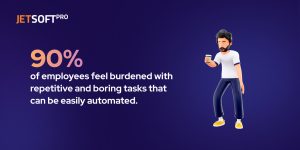 Everything that is on paper can be digitized. And everything that repeats oftentimes can be systematized. In general, up to 90% of processes performed by employees in companies are repetitive and can be automated. 
In this article, you will find out how to properly automate key business processes. 
What Is Business Automation Software?
Business automation describes using technology programs that perform repetitive tasks, freeing workers for more valuable work. Business automation is often achieved through business automation software and similar tools. 
Business automation software can be both an all-in-one platform for automating various business operations and a separate solution for automating a specific business process. 
Key options of Business Automation Software:  
increasing productivity 

 

driving business growth

 

improving the customer experience

 

collecting statistics and analyzing data

 

reducing the burden on employees

 

minimizing human errors through automation

 

reducing business costs by up to 60%

 
Different Types of Business Automation Software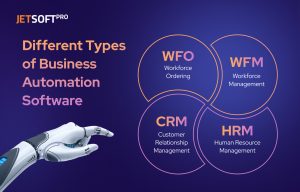 Workforce ordering is a set of processes that help companies arrange tasks for employees and keep track of ongoing jobs, and organize tasks so that everything gets done on time. For example, companies use it for scheduling, documenting their maintenance, and storing all work orders in one place. 
Workforce Optimization includes Workforce Management tools.  
Workforce Management (WFM) is an umbrella term that refers to a set of processes that a company uses to optimize employee performance. Such WFM solutions help organizations automate processes that manage employee time, efficiently organize and distribute the workforce, and enable self-service for employees and managers. 
Customer Relationship Management (CRM) collects all data about prospects and customers in one place. This allows business owners to track all communications and nurturing processes (in person, via phone, email, or social media) and improve work organization and time management.  
According to Dynamic Consultants Group, every dollar you invest in CRM software can return as much as $30.48 in increased sales.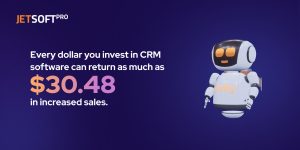 Human Resource Management (HRM) focuses on the function of people within the business, allowing HR to focus on more important strategic work. This includes but is not limited to compensation, recruitment, hiring, sick leaves, onboarding paperwork, safety, wellness, benefits, employee motivation, policy administration, etc.  
Therefore, the global HR technology market size is expected to reach a value of USD 35.68 billion by 2028, at a CAGR of 5.8% over the forecast period 2022–2028. 
What to Choose – Ready-made or Custom Business Automation Software?
Because every business is unique, business owners often have a tough choice: build a custom solution around existing processes or adopt third-party software. Both options have their advantages, so there is no one-fits-all approach.  
We have picked a few key benefits and drawbacks to help you choose the best option for your business goal: 
Advantages of Ready-made Business Automation Software: 
Implementation of a ready-made solution doesn't take much time

 

Relatively small costs

 

Maintaining process is carried out on the vendor's side

 
Ready-made Business Automation Software Drawbacks: 
You rely on the business automation software vendor

 

In the long term, the price of a ready-made solution may even exceed the cost of developing custom software (you need to adapt the software to your business process or add new features)

 

You can use software that your competitors are already using.

 
Advantages of Custom Business Automation: 
High customization and perfect match with the specific needs of a company

 

The right to the created software is yours, and in the future, you can turn your solution into a commercial product and sell it

 

You can easily add new features to the software

 
Custom Business Automation Software Drawbacks: 
Relatively high cost 

 

A large number of risks associated with the development process, such as unexpected costs or constant delays

 
Read the article: Risks of Software Development Outsourcing and How to Avoid Them? 
JetSoftPro List of Free Business Automation Software
Below you can find our list of the best free business automation software.  
Free Business Automation Software is generally a trimmed-down version of expert or enterprise editions that offer basic functionality.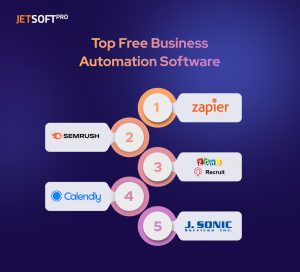 1. Zappier
Zapier is a multi-purpose workflow optimization software that can help you send updates on multiple projects you're working on, respond to emails, move or save information, etc. With Zapier, you can cut out repetitive manual tasks. 
2.Calendly 
Calendly helps you send emails to organize meetings, phone calls, and more. All you need to do is set up your available options in Calendly for your next appointment and insert the link in your email invitation. The recipient then chooses a convenient time, and the event will automatically be added to your calendar. 
3. Semrush CRM
Semrush CRM is a free CRM software that allows you to integrate your sales pipeline with data from your client projects, making it ideal for growing agencies that want to manage all their client data from one platform.    
4. Zoho Recruit
Zoho Recruit helps HR departments manage their recruitment processes through essential features for candidate tracking, team collaboration, and even CRM.    
5. jSonic
jSonic is an open-source program designed to empower process owners with process management, reporting dashboards, workflow management, collaboration tools, and data management. Its interactive and user-friendly tool allows users to modify business logic without technical coding skills. 
How to Start Business Automation Process: 6 Tips from JetSoftPro Experts
Prioritize areas to automate. Start with the department with the least amount of paper. Most likely, the manager there already has a scheme according to which the process works.

 

Never automate everything at once, it can stall and kill your business.

 

All business automation processes must be thoroughly studied by everyone who uses them. Therefore, organize training for employees and appoint a responsible manager.

 

Business automation software should be developed by the employees who work with it daily.

 

Hire a business analyst to minimize the gap between desire and reality.

 

Remember that any function of the programs is possible in business automation software. It's just a matter of time and money.

 
Investing in business automation software speeds up the workflow and improves the productivity and efficiency of the process. And we at JetSoftPro, as business automation experts, will always help you choose the best solution for your business goal. So, write to us for consultation.