The outsourcing business model is evolving in various industries, and IT is no exception. Deloitte reports that IT outsourcing spending will reach $519 billion in 2023, up 22% from 2019. 
This is not surprising because software development outsourcing has several significant advantages for both large market players and small startups.   
Read the article The Benefits of Software Development Outsourcing. 
However, there are also serious issues with software development outsourcing, such as poor communication, hidden costs, or intellectual property protection. Therefore, software development outsourcing requires careful assessment and management to avoid the main risks.   
5 Risks of Outsourcing Software Development and How to Avoid Them?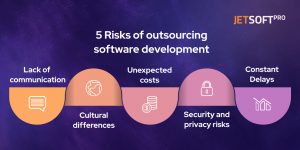 Here are the most likely risks and how to avoid them:   
Lack of communication 
One of the main risks of software development outsourcing is the lack of communication between the business and the service providers.    
According to Expert Market statistics, communication barriers can cost businesses around $37 billion a year. That's why it is essential for companies considering software development outsourcing to establish clear lines of communication channels from the start and make sure that everyone understands their role in the process. 
Solution: 
Use regular face-to-face or video calls. Let each meeting end with a question-and-answer session for both parties and a summary of a conversation – in written and oral form.

 

Check the progress regularly. Don't forget to ask for updates from the software development outsourcing team's work on your project.

 

Designate a contact person between both parties to manage a smooth flow of communication.

 
Cultural differences
The human factor can also get in the way of finding a common language. Your cultural features, vision, goals, and motivations may differ from your contractor's. The result? A yawning gap of anticipation.  
Solution: 
Check the team's fluency in English, as language issues can create a lot of misunderstandings in the future. 

 

Add more references to visualize the result you want to get. 

 

Develop a unified terminology system to avoid misunderstanding. 

 

No metaphors in communication. Formalize all tasks with the software development outsourcing vendor by asking: we expect this, at such a time with this outcome, can you confirm or deny this request?

 
Unexpected costs
According to Deloitte, the main reason for outsourcing among 70% of companies is cost reduction.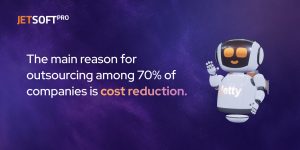 On the one hand, software development outsourcing can save you money, but on the other hand, poor outsourcing cost management can bring you a lot of problems. For example, initially, you agreed on one amount, and the cost increased by two times during the project implementation.   
Solution: 
Sign an agreement to specify the hourly rate payment and regulate all expenses. You can also add information about how much the final price may differ from the previous one and who will pay if the error is more significant.  

 

Make sure the task is clearly formulated at the beginning of the work. It is better to hold several additional meetings so that both parties understand their tasks correctly. 

 

Involve a business analyst. This will help you assess the technical requirements and avoid wasting money on unnecessary tasks.

 
Security and privacy risks 
You can never ignore the software development outsourcing security and privacy risks, as these breaches can lead to long-term consequences with a negative impact on customers, suppliers, investors, and business relationships.  
Solution: 
Always sign a non-disclosure agreement (NDA) with software development outsourcing vendors. 

 

Protect your intellectual property by the law. Pay attention to the legislation of the outsourcer's country, particularly the compliance of local laws with global standards.  

 
Enter into a permanent source code ownership agreement with the company.

 

Make sure your outsourced software development vendor complies with all standard security regulations and can show you the certification to prove it.

 
Constant Delays
Have you heard of the 4x rule in software development outsourcing? According to this rule, outsourced jobs take four times as long to achieve a result. The reasons for this are miscommunication and a lack of a work plan.  
Solution:  
Include specific time frames in your software development outsourcing contract. To manage the deadline, you can create checkpoints by breaking the project into smaller tasks. 

 

Stay involved. You can regularly check the progress, communicate, and ask questions to participate in the development of your project.

 
Sum Up 
At JetSoftPro, we believe that software development outsourcing is a great way to cover your IT business needs! By taking care of a few risks, regularly reviewing progress, and paying close attention to details, you can thrive with an outsourcing development partner like JetSoftPro. 
If you have any questions or comments or want to discuss the terms of working with our team, we're ready to help you with that!