Working with outsourcers allows you to reduce software development costs, differentiate the team involved in creating your product, or temporarily attract qualified staff without hiring them in-house. 
The tax conditions for this type of stuffing are much more comfortable than for onsite employment, especially in countries widely practicing outsourcing software development. Outsourcing minimizes recruitment costs. You can even dismiss your hiring department and switch to a much cheaper outsourcing company. In the post-Covid bubble, outsourcing can be a lifesaver for businesses and tech companies that have been overstaffed. 
The most challenging thing is to organize everything for the first time when you have no experience.  
After defining development goals and analyzing business needs, you are facing three difficult questions: 
which vendor to choose

 

what price is acceptable

 

how to manage the new process

 
How to Choose a Reliable Software Outsourcing Partner
Companies worldwide have many chances to find IT talent at a more affordable cost than in the US or Canada. Many businesses look for vendors in Eastern and Central Europe, where software development is rapidly growing and highly competitive.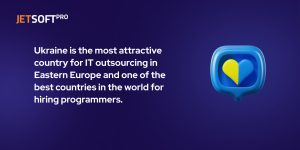 According to the Daxx report, Ukraine is the most attractive country for IT outsourcing in Eastern Europe and one of the best countries in the world for hiring programmers. The Global Sourcing Association (GSA) recognized Ukraine as the "Delivery Destination of the Year 2021″. SkillValue wrote that Ukraine has a 93% score in skill proficiency, meaning that Ukrainian employees keep up to date with modern technologies. Working with Ukrainian programmers can save 30% of the total development cost without sacrificing code quality. Despite the challenges of 2022, Ukrainians attach to deadlines. The management of IT companies and the Ukrainian government handle convenient work conditions and ensure communication and the Internet. 
Also, outsourced software developers are hired in Croatia, Romania, Bulgaria, the Czech Republic, Hungary, and Poland. These countries are the most popular due to their convenient time zone and location. You can talk with the outsourced team for 3-5 hours daily from anywhere in the world.  
The cost of work in this region is more than affordable. IT services may be cheaper only in Asia. But be ready that the quality of work and communication also falls. 
Once you have decided on geography, it's a good idea to look at the supplier ratings in the selected countries and contact a few of them to get quotes and meetings. Also, you need to evaluate your potential software development vendor. Check the portfolio, ask about team members, and communicate with past clients. Find ratings and reviews to better understand the company and its level of performance. You can Google the agency name and read independent reviews on websites like Clutch.co. 
This way, you can check their communication and corporate culture and listen to their suggestions for your business task. 
How Much Software Development Outsourcing Cost
The price depends on many factors. But over 70% of companies save their development budget using outsourcing.  
First, you need to objectively set your budget and consider the offers of vendors with whom you are going to work. It is important to discuss the cost of software and what it will include in development with potential providers before starting a joint job. 
It is a common mistake to cut on the project by reducing the team. The more outsourced developers you hire, the more non-tech specialist you need to conduct the correct process. PMs, BAs, and other experts ensure the team works according to your project's roadmap. 
Once you have chosen a qualified outsourcing company with a dedicated software development team, you should be confident in the reliability of your vendor. You have to sign important documents – SOW, NDA, and contract.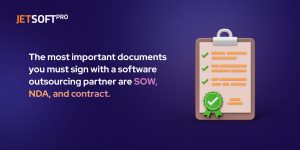 A Statement of Work (SOW) is a project management document that manages the collaboration between your company and a software vendor. A high-quality SOW should cover every critical work point, including schedules, timelines, work standards, location, payment method, and deliverables. It is usually part of a contract or service agreement.  
In software development, the SOW is usually created by the outsourcing vendor. At JetSoftPro, we provide our clients with in-depth and comprehensive SOWs that contain all the necessary information for a successful collaboration. 
A Non-Disclosure Agreement (NDA) is a formal agreement between two companies for private and confidential information. This document prevents the partner company from disclosing or sharing critical business data with others. You must sign an NDA before disclosing personal, privileged, or confidential information. Usually, this document is created by a software vendor and is signed before the contract. 
A software development or service contract is a service agreement between you and your software development partner about mutual expectations and responsibilities. In this document, it is important to agree to the terms and conditions of cooperation. A contract should include a services description, project scope, fixed cost and timeframe, testing and delivery, success metrics, ownership and rights, support and maintenance, payment terms, unexpected issues, warranty, indemnification, and liability. 
The contract must be drawn up and approved by professional lawyers. 
How to Manage The Process
Communication is essential for successfully outsourcing software development. Working with outsourcers in the post-Covid period is similar to working with an onsite team because everyone is used to remote work. The only field for misunderstandings can be cultural differences, which is also worth paying attention to, when choosing a vendor.  
There are some barriers to working with cultures different from yours. The integration with your company will be seamless and hassle-free if you choose regions for outsourcing with great communication culture, a high level of spoken English, and convenient time zones, such as Eastern Europe and Ukraine. 
At the start of the project, you should give the outsourcers enough information to understand the idea of your business and the project. Usually, all necessary information is shared at the kick-off meeting and interviews with specialists. To avoid misunderstanding, communicate as simply as possible. Think in advance about how you will give access to the source code, who will control it, and how to correct potential errors. 
Summing Up
The software development services of outsourcing vendors are becoming more and more popular every year. By 2025, the global IT outsourcing market will be worth $397.6 billion. 
The advantages of outsourced development are reduced costs, better expertise, and innovative solutions. Companies must prepare for work with an outsourced team, choosing the location, price policy, and quality of the vendor's services. There are many tools for remote work verification, so your ideas will be implemented in the best possible way. 
Firsthand, hiring an outsourced development team may seem difficult. However, a qualified vendor will fix all the complexities of this process by offering quality service and unique expertise. JetSoftPro specializes in software development. Please contact us for service, and we will select the best team for your project. Also, in JetSoftPro, you can get a free consultation on starting an outsourcing project. Just contact us, and we will book a call!