Big Data is a buzzword that describes immense volumes of unstructured and structured data that can inundate a business daily.
Big Data is a massive amount of data sets that cannot be stored, processed, or analyzed using traditional tools. Simply put, Big Data is more complex data sets, especially from new data sources. So how can you recognize them?
The Four V's Of Big Data
Big Data is typically characterized by well-known Rules 4 V's: Volume, Velocity, Variety, and Veracity.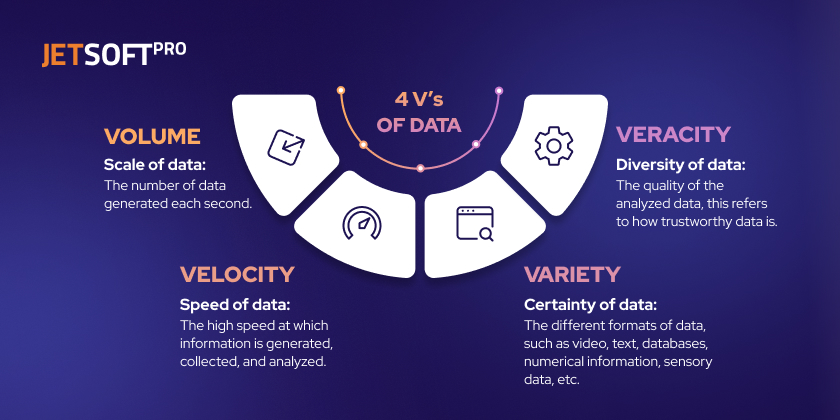 What Is Big Data Analytics?
The process of analysis of large volumes of diverse data sets using advanced analytic techniques is called Big Data Analytics. 
Big Data Analytics uses analytic techniques to examine data, thus obtaining and finding information like hidden patterns, correlations, market trends, and consumer preferences. Therefore Analytics is used to analyze insights, leading to better decisions and strategic business moves. 
The benefits of Big Data Analytics and tools are:
Data accumulation from multiple sources;

Business Transformation;

Innovation;

Potential Risks Identification;

Cost optimization;

Improved Customer Services;

Increased Security.
Applications of Big Data Analytics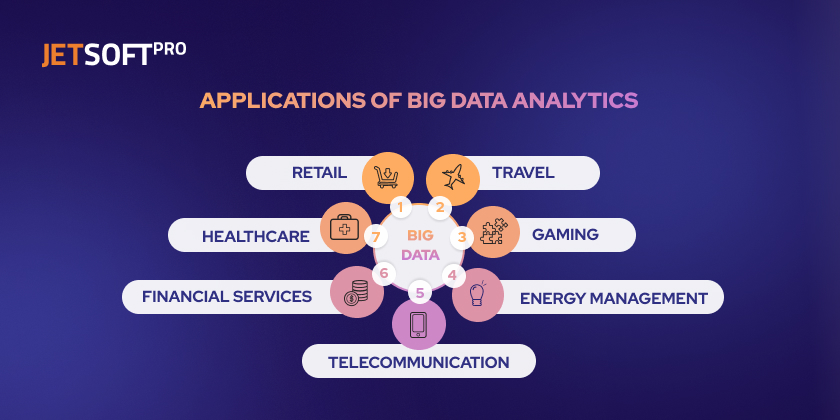 Big Data can help you address a range of business activities, from customer experience to analytics, including: 
Financial Services

.

Credit card companies, retail banks, private wealth management advisories, insurance firms, venture funds, and institutional investment banks all use Big Data for their financial services.
Telecommunication. Telecommunication service providers use Big Data Analytics to gain new subscribers, retain customers, and expand current subscribers.
Retail. A brick-and-mortar company or an online retailer should analyze every day all data sources they deal with, such as weblogs, customer transaction data, social media, or loyalty program data.
Healthcare. Healthcare Big Data Analytics includes patient, medical or hospital records, medical exam results, etc., and can save people's lives by preventing diseases, forecasting medical outcomes, and reducing medical errors.
Travel. Data Analytics can optimize the buying experience through mobile/weblog and social media data analysis. Travel websites can gain insights into the customer's preferences to give customers personalized travel recommendations.
Gaming. Data Analytics helps collect data to optimize and spend within and across games. Gaming companies can also learn more about what their users like and dislike.
Energy Management. Data Analytics here is centered on controlling and monitoring network devices and dispatch crews, as well as managing service outages.
The Big Data and analytics benefits prove how powerful a tool has emerged for businesses irrespective of size and industry.  So if you want to know more about Big Data analysis, let us know.