Nowadays, looking for IT specialists outside your organization and even the country is common, and the main reason is cost reduction.  
86% of business leaders from the tech industry say it's challenging to find skilled professionals. 73% of surveyed employers plan to increase the number of IT employees. 
Outstaffing is an effective operating model that allows IT companies to build skilled teams, save money, and reduce the problems of conventional recruitment.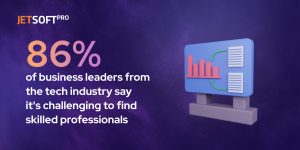 Outstaff is a collaboration model where you get a dedicated developers without the headaches of taking on long-term employees. It's like leasing— you team up with a developer without hiring them directly. The software development vendor carries out the recruitment. The contractor is responsible for working conditions, salary, benefits, equipment, motivation, and employer taxes as the official employer. According to the statistics of Grand View Research, Inc., the global business process outsourcing market will reach 525.2 billion USD by 2030.
It seems outstaffing software development is much easier than outsourcing, where you take a team on projects and dive into the internal processes much more deeply.
It's almost like that. But there are three pitfalls: job-hopping, cultural differences, and global acceleration. Here are tips to help you deal with the biggest challenges of outstaffing and make your projects as fine as possible.
1. Job-hopping
Millennials, who make up 80% of software developers, are often called job-hoppers for their habit of changing jobs every six months or every year. This generation is always on the lookout of another job with a better career opportunity. Bad managers, poor benefits, a lack of career development and growth opportunities, and significant life events can all cause employees to consider an exit.
How can jumping be damaged in outstaffing? Employees comfort is out of your control. If they are about to jump, you never know it in advance and can't prevent.
It can be avoided thanking to the regular employee feedback you give to your vendor. Highlight your satisfaction from joint work and ask about your employees' current mood and prospects. Proficient outstaffing firms are glad to provide such information and constantly request your report.
2. Cultural differences
There are two points here: social hunger and miscommunication.
IT expert needs to be in society just like all other human beings. An outstaff developer is lonelier than an onside employee. Therefore, it is important to plan time and opportunities for communication. The team needs to know its players and learn to consider the most challenging issue – the cultural difference.
Cultural differences often become the cause of misunderstandings in the processes, followed by shifted deadlines. It is necessary to communicate with an outstaffer, even if you delegate all management to the software development vendor. The team will play better when they learn the joint rules of the game. You know your product perfectly, so you should assign a knowledge holder.
3. Global acceleration
The world is moving faster, and we're all getting used to communicating quickly. We have a prejudice that everyone treats information in the same way. In fact, it's always a good idea to ensure the remote workers you hire have a good understanding of your business and product. The team must work in the same context and rhythm for success in software development.
If you don't have a kick-off system, organize at least two one-to-one meetings with questions and answers. Another good idea is to develop an automated game to test knowledge. Give employees time to get involved. Introduce them to the project with smaller tasks that give a clear idea of the project architecture. Then gradually complicate the scope, reaching the level where they can decide how to do their job and do it by themselves, based on the needs of your business.
This way, you will protect yourself from overpayment.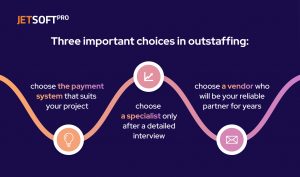 In addition, there are also helpful points in outstaffing:
сhoose the payment model that suits your project
Outstaffing has different payment models, and the most common form is time and material. This model allows you to pay for actual work reported by hours, however, it requires an understanding of software development timing ranges.
сhoose a specialist only after a detailed interview, avoid emotional decisions
Outstaffing saves time for staffing, but you must be sure of the technical expertise of your future developer. JetSoftPro has already had skilled IT experts interviewed and tested by specialists. Therefore, our developers successfully pass 98% of technical interviews.
сhoose a vendor who will be your reliable partner for years and be interested in building a mutually beneficial relationship with you
Check the expertise of your future vendor, read reviews from other companies and employees, and inquire about the vendor's corporate culture. Pay special attention to the legal component of the process. JetSoftPro guarantees data security and works according to the US and European laws.
All this advice will help you avoid typical mistakes and save money on IT outstaffing. We are ready to relieve you of the headache of finding, hiring, and creating comfortable working conditions for your employees. JetSoftPro can make your company more powerful with top tech talents. Contact us, and let's do big things together!