In 2022, according to Statista, 41% of organizations experienced cost overruns for global enterprise resource planning (ERP) implementation projects. Cost overruns have significantly increased compared to last year. 
Enterprise-level companies have been outsourcing software development for many years and have extensive experience, which has led to the creation of specific policies to regulate these processes. However, a few tips can significantly simplify development for a large company and reduce costs even more than the general discount allows.  
In this article, we share the latest opportunities for your enterprise business. Hints below will help you find and set up a software development contractor, avoiding additional meetings to solve everlasting problems.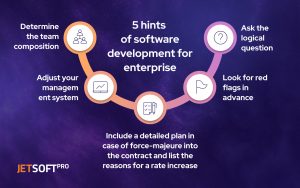 Determine The Team Composition
When starting the collaboration with a software development vendor, you choose a team of specialists based mostly on their qualifications. You receive their CVs with hidden names and expertise of the employee, and you need to decide if you will work with these people.  
Negotiation with an IT outsourcing contractor can take several months. At this time, their developers can be temporarily involved in other small projects. Sometimes these temporary projects may not finish on time, so contractors replace players at the start of your development. 
Reputable companies will always offer a replacement with the same level of experience. But you can avoid this substitution. The best solution is to enshrine the developer profiles for your project at the SOW signing stage, and you start with the same players discussed throughout the negotiation process. 
Adjust Your Management System
According to different sources, it takes from 4 months to 1,5 years to develop enterprise software. And now, imagine that you worked according to Kanban all this time, and the software development vendor uses the Scrum system. 
Allow time for the contractor to get to know your system. Hold a few intro meetings and make sure the contractor can adjust to you. You can easily track their output, integrate the outsourced team into your processes, and report to your management if new employees switch to reporting and planning according to your method. 
This process will be more accessible if you choose a contractor who uses the same management system as your company.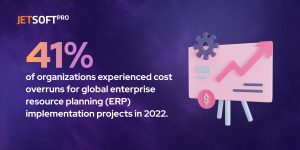 Include a Detailed Plan In Case of Force-majeure Into the Contract and List the Reasons for a Rate Increase
Who could have thought about the war in Ukraine in 2021? 
One of the primary responsibilities of JetSoftPro is to protect our customers from the influence of any negative factors and force majeure. We prescribe these obligations and warranties in contracts and complete them conscientiously, which minimizes risks for our clients.  
You should discuss your safety with your contractor.
Look For Red Flags in Advance
It is only sometimes possible to predict what will go wrong. At most, even an experienced enterprise manager does not notice the first signs of a bad software development contractor. 
Attitude to deadlines is something to pay attention to from the first days. Non-compliance with timings can be noticed already on the first day of cooperation. For example, you were promised a presentation in an hour, but it had been dropped in two. If so, the contractor's company probably does not have a transparent corporate culture of saving time, which, translated into the outsourcing language, means a lot of additional costs further. 
Ask The Logical Question
How do you check the professionalism of the person responsible for your project? Give the brain test to check the logic. For preference, the task should be related to the industry where you work. 
For example, your company works in retail. You might ask how your possible colleague would solve last-mile delivery if they had unlimited resources. Suppose the contracting company can provide you with an answer that aligns with your company's values and demonstrates a deep understanding of the problem. In that case, you can expect that such a collaboration will be profitable and productive.
 
JetSoftPro has a lot of development experience and can implement your project qualitatively. Instead of giving you the cost statistics, we recommend contacting us for a consultation and approximate estimation based on a particular idea and project plan. We are glad to talk about your up-and-coming project at any time.