 PLAYAT Sports Mobile Application
Expertise:
UI/UX Design
Robotics, IOT & Mobile
Services:
Digital Business Transformation
Integration Services
Technology Consulting
QA & Testing
R&D & Innovation
Mobile Application Development
Technologies:
PHP
Android & Xamarine
FireBase
Google Maps API
IOS
IOS, ANDROID & XAMARIN
Laravel
Native
Payment system
PHP7.2
RocketChat
Industry:
Media & Entertainment
Client Background
The client is Khaled Alshaheen, the owner of Corner General Trading, a company that invests in sport real estate projects in Arabian Gulf countries. He owns and manages several football commercial fields in Kuwait, UAE, and Saudi Arabia.
Business Challenge
The main challenge was to create a platform for both of the most popular mobile operating systems (iOS and Android) where the end-user can feel relaxed while playing team games such as football, volleyball, etc.
The mobile application will be provided for user-players and user-creators (hosts), who also can be players.

Develop iOS and Android versions of the applications and integrate them with a smartphone.
Solution
PlayAT is a complex innovation and progressive application where the user simply finds their favorite game and plays like a professional or amateur. Also, the app unites people for communication and spending time together.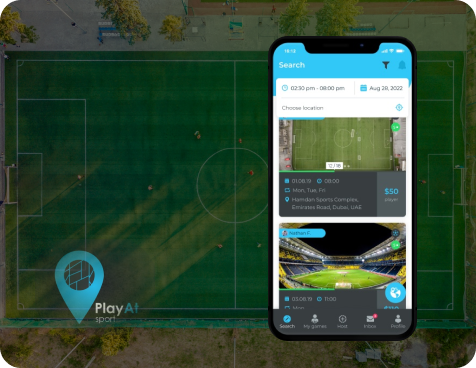 Value delivered by JetSoftPro
UI/UX design
The best quality of the code
Careful testing of the application for the best end-result
Functional native iOS and Android applications
Integration of the Payment System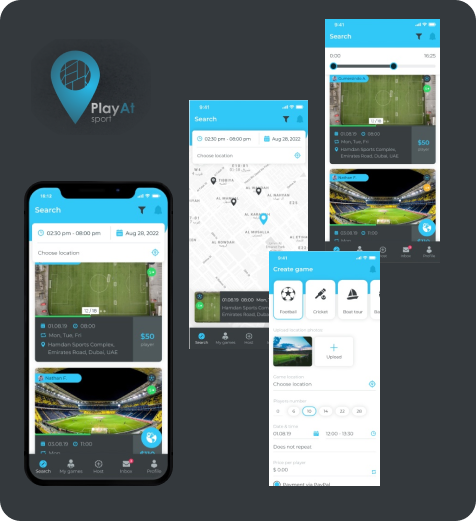 Product Overview
Client's Goals
Increase the self-reliance of the individual and the ability to organize daily sports events easily, increasing self-confidence.

Make booking easier for players so that they can improve their lives through playing sports.

PlayAt completely covers these needs for users:
– Find a place and team for playing games in any country in the world
– Create a game for the evening and invite friends
– Communicate with other participants via chat, which was developed using the technology called "RocketChat"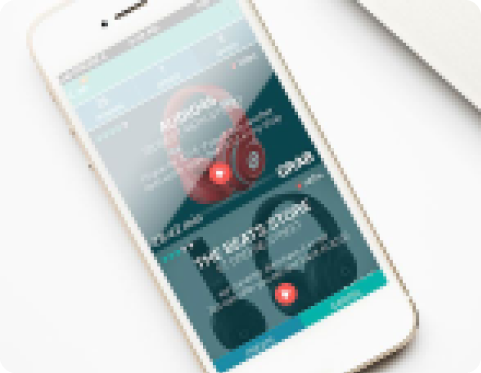 Additional functionality we provided in the application:
Fully integrated with Google Maps for the most convenient use
All locations are clickable, the user simply can be transferred in Google Maps and choose the best route to the next game place
This application is user-friendly for all ages
The payment system is completely integrated into the application. Users can pay using cash or PayPal
Technical implementation
To achieve the client's goals our team created a system that consists of PlayAt application for iOS and Android, also integrated with RocketChat, Google Maps, and a payment system. The functionality of the applications was developed with PHP (Laravel) and Native strictly due to the client's requirements and descriptions. Team composition: 2 Android developers, 3 iOS developers, 1 PHP Backend developer, 2 Manual QA specialists, 1 PM.
Get in touch with us. We'd love to hear from you.
Contact Us