 CreatorIQ, The Enterprise Influencer Marketing SaaS Platform
Expertise:
Business Automation Platforms & WFM
UI/UX Design
Services:
Digital Business Transformation
Software Product Development
Security Solutions
Technology Consulting
Technologies:
PHP
ANGULAR
AWS
Node.js
PYTHON
React
Industry:
Media & Entertainment
Client Background
CreatorIQ is a unique and cutting-edge software solution for companies seeking to advance their brand awareness through influencer marketing maturity in the age of the creator economy.​
Business Challenge
Our client works in the trend market with high competition. The task was to achieve a leading position in the market quality and adaptability of service provided by the company. Therefore, the company needed a unique platform for managing and optimizing creator-driven campaigns at scale using social media.
Solution
We created a platform that seamlessly helps agencies, media companies, and brands execute their branded content campaigns. Its CRM system allows users to monitor how effective each campaign is. It also enables prediction and the campaign's revenue plan.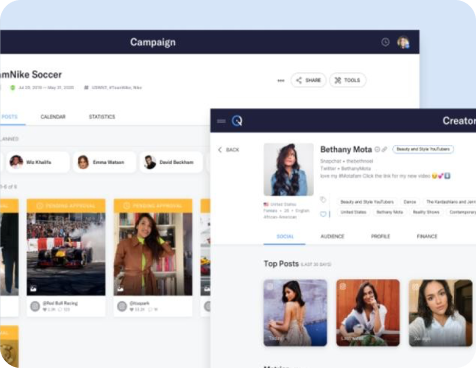 Value delivered by JetSoftPro
A unique platform for managing and optimizing campaigns
The ability to monitor the effectiveness of campaigns
Technical implementation
We need reliable tools, so we used AWS to store and process data because they offer the best solution with a high level of availability and scalability for this type of project. With such Atlassian products, like Jira, Confluence and BitBucket, we could define requirements, plan the work of teams, control the construction of versions and integrate with communication channels. We also used React, Angular, Marionette, Backbone, PHP, Python, Node.js to create the platform.​ ​