With its 30 000 IT industry workers, Lviv was the third in technology workers after Kyiv and Kharkiv before the war. But for many years, precisely Lviv has been called the IT capital of Ukraine.
Let's research why Lviv is one of the best cities for business investment and what opportunities it can give you.
Lviv IT Industry Overview
It is known that Ukrainian IT was born in Lviv. Well-known companies of global significance (the largest in Ukraine), such as SoftServe, ELEX, Intellias, and N-iX, were created in this city.
JetSoftPro is also evolving rapidly to add to the list of technology giants. The company has Development Centers & International Offices not only in Ukraine but also in the USA (New York, Denver), UK (London), and Poland (Wroclaw).  
According to IT Research 6.0, there were 511 tech companies in Lviv in 2021. As a result of the war, this number will be much higher in 2022. For example, during the first month of the war, the number of IT specialists in the Lviv region reached 70-100 000. That's why it is not surprising that Lviv is actively developing IT communities, such as Lviv IT Cluster.
What Is Lviv IT Cluster? 
Lviv IT Cluster is a tech community that unites 200+ tech companies (including JetSoftPro) of different sizes and needs. That's why the mission of IT Cluster is to help all companies that lack expertise or experience in a particular area of business. 
Lviv IT Cluster infrastructure projects include IT House (the first housing for a community of IT specialists in Ukraine) and a large-scale IT Park. It transforms the city into a business center with modern offices, labs, a shopping mall, and a university.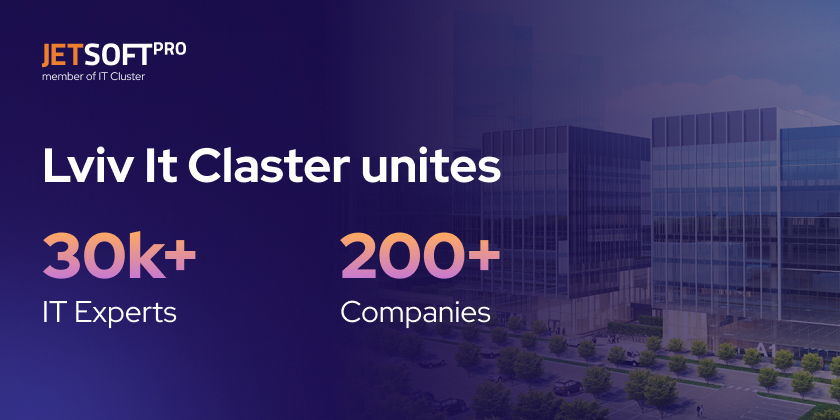 Lviv Tech Event
Many professional IT events are held in Lviv. Lviv IT Arena is the largest technology conference in Central and Eastern Europe that unites investors, IT companies, startups, and leaders in the IT industry. IT Arena is a world-class conference with the participation of giants such as Google, Microsoft, Youtube, Amazon, etc. The three busy days of the conference inspire new solutions and business ideas.
Reasons for IT Outsourcing in Lviv 
Economic attractiveness. In peacetime, the industry's overall economic impact was estimated at $1.4B a year;

Lviv government supports IT initiatives to attract foreign investors;

High-Level Tech Education and self-education opportunities;

IT communities;

Developed IT infrastructure;

Professional events;

Location. 
In recent years, the Lviv IT industry has shown high growth in outsourcing, making Lviv an ideal place for employers and clients interested in technology outsourcing from many countries around the world.  
Lviv Is Open To The World 
As you see, Lviv is not only the cultural capital of Ukraine but also an IT center that will help you find highly qualified experts for your startup, business idea, or custom software development for your company. 
Contact us if you want to become part of the Lviv IT industry or take your IT business to Ukraine.