The market of 2023, just like the market of 5000 BC, rests on three pillars: reduction of production cost, profit maximization, and finding new solutions to old problems. 
The relatively young Software development market is currently going through an adolescent crisis. It sets acceptable limits for itself and, at the same time, shows its temper in radical decisions and experiments, some of which become immanent.  
IT outsourcing is a clear example of this. It formed an independent market to cover the need to reduce production costs. About 45% of companies outsourcing IT functions agree that the primary motivation for hiring an outsourcing development team is to save money. According to statistics, businesses can save up to 30% of their budgets by outsourcing software development.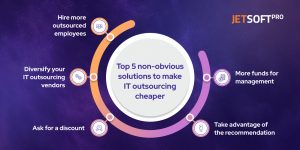 Here are the top 5 non-obvious solutions to make IT outsourcing cheaper:
Hire more outsourced employees
Does it sound weird? It is actually about cost restructuring. Most outsourcing clients have conservative ideas about what jobs can be outsourced and what can't. Software development is often outsourced. Management, marketing, and product design are more likely performed by in-house specialists, which can be much more expensive. 
Diversify your IT outsourcing vendors
If you work with one contractor, they will define the game's rules. If there are several contractors, each will try to displace the competitor and offer better conditions and quality. It means you'll get a more comprehensive selection of candidates and can cut costs by diversifying. 
Ask for a discount
Software development companies are happy to give discounts to customers if a contract is signed for an extended period. You will be surprised how much profitable the second year of cooperation can be.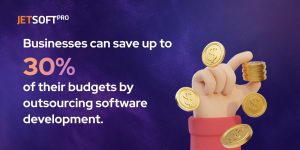 More funds for management
A qualified manager will build processes so that the development is not delayed, saving up to 400% of the project's final costs. It is more profitable for you to hire a high-rated manager than to close development tasks with a team of developers who can't stick to their own assessment. 
Take advantage of the recommendation
Recommendations are taken into account when it comes to choosing a contractor. The person referred the outsourcing company to you may ask for a special discount. Development firms appreciate referrals and usually favor such ideas. 
Software development companies generally lay up some additional costs to mitigate the risks of a sudden loss of a client. Let the software development vendors understand the seriousness of your intentions, and you will receive special conditions. 
At JetSoftPro, we have the technical skill set and support structure to get the best out of the outsourcing team you hire. We are ready to help and cooperate.