More than 2.3 billion consumers made at least one purchase in an online store in 2022. Over the past 5 years, the number of digital buyers has increased by 40%.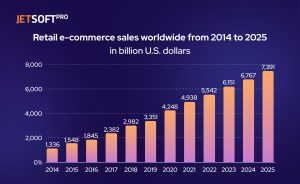 Top of the largest marketplaces in the world
Amazon is at the top of the largest marketplaces in the world. The marketplace has 5.69 billion visits every month. eBay is in second place with almost 3 billion visits. Both marketplaces are international. Shopee, an online store from Southeast Asia, is in third place.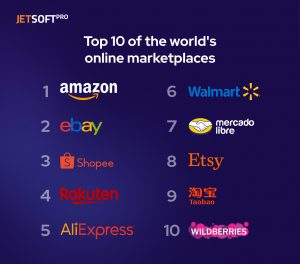 Buyers choose platforms where they can find everything they need, from riding equipment to NFT artifacts. Therefore, nearly 60% of all largest marketplaces are general. 9 of 10 most popular marketplaces sell a wide range of goods.  
Etsy is the largest non-general marketplace where is sold handmade products and crafts. It found its niche by choosing products that were difficult to find in other marketplaces. 
How much money and time it takes to create a marketplace
Etsy entered the market in 2005. The initial version of the platform took two and a half months to build. During the two years of its existence, the online store passed 1.7 million dollars in sales. However, the company did not report a net profit as of 2015 due to reinvestment of annually increasing gross profits in marketing, product development, and management. Today, Etsy connected 7.5 million sellers with 96.3 million buyers. 
Now is not 2005, and you can work with an experienced software development partner. It will save you time and money because it will help avoid common mistakes in the first development and launch stages. 
The development time for marketplaces like eBay or Amazon can be around 4 months. Under various requests and conditions, the price can vary from 20,000.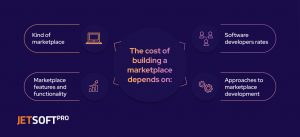 Therefore, the best solution is not to guess but to consult and calculate the cost according to your request. You can contact JetSoftPro and get a consultation from our specialists. 
8 features of a good marketplace
Scalability
Good marketplaces have a universal sales scheme that does not limit the number of products. Offer as many items as possible. Find your own niche, and establish it, but avoid getting stuck. Work on your target audience, and at the same time, figure out how to attract new sellers and customers. A marketing strategy will help attract new clients. See point 7. 
Convenient ordering
The sales process on marketplaces should be smooth and streamlined. Make site navigation simple, divide products into categories, and show discounts separately. Rely on your own experience because you are also a user of the online store. Think about your own online shopping experience. What did you like? And what was annoying? What would you like to improve? You can ask these questions not only to yourself but also to your target audience. 
It would help if you had an integrated solution to process your orders and avoid additional manual work to achieve this. You need a reliable software development vendor to build a fully comprehensive marketplace management system. We can consult you and help develop and implement your customer system.  
Payment and tracking
Almost half of the users pay for online purchases using e-wallets. Credit cards and charge cards are also popular online payment methods. Before choosing payment gateways, you need to determine the location of your marketplace's target audience and make sure you offer convenient and suitable payment methods. You should also ensure a safe and easy payment experience for your customers. 
Allow your buyers to track their orders and send notifications every time their order status changes. Agree that it is convenient to understand when the parcel will arrive or why the delivery is delayed. 
Strong support service
Having a support service system is necessary for customer interaction. You can go further and offer solutions like AI-powered chatbots for 24/7 support. 
Clear return and refund policies
This policy defines the conditions under which customers may return products they can purchase and receive a refund. It also informs your customers of when the product can be returned. Make the terms simple and transparent, and better yet, write a step-by-step guide for sellers and buyers. 92% of consumers surveyed said they would buy again if the product return process were easy.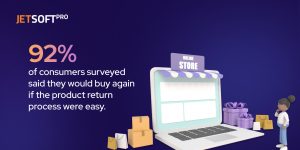 Delivery
Online stores transfer the complete list of services, or some part, to fulfillment. It is a complex of operations that starts from the moment of placing an order and ends with the moment of receiving the parcel. In recent years, 70% of trading platforms have implemented this type of service. 
Rules for sellers and buyers
Marketplaces do not accept everyone. Sellers are often rejected due to unregistered trademarks, lack of trade permits from trademark owners, self-employed persons, and stores that sell goods through dropshipping. You must create an automated solution to verify sellers before registering them on the marketplace. Buyers must also register and pass the data verification. 
To make things easier for you, give your users various communication options. Your buyers should be able to communicate directly with your sellers. 
Aggressive marketing
You should loudly announce your marketplace in social networks, news, and newsletters. You can gamify your advertising, offer discounts or discount cards, give gifts to the first buyers and sellers, buy recommendations of influencers.  
The main goal is to attract attention and introduce the new marketplace. Consider where your target audience takes information from. If you want to open up to a local audience first, flyers, billboards, and personal recommendations are also suitable. 
How to compete with larger marketplaces
Nowadays, the market is already divided, and it is time for niche players. Etsy is an excellent example of this.  
Here are some tips that will come in handy for creating and developing your own marketplace. 
You can become the most convenient marketplace for a small community and later expand the range. 

You can create convenient tools for selling and build a new market for manufacturers, like Etsy or Shopify.

You can propose additional services, for example, a unique delivery model, such as delivery by drones.
Based on Statista, there are more than 20,000 online stores worldwide. A unique offer help to compete with them. Ease of use and a high level of service form brand loyalty. Don't try to cover everything at once. Focus on a small niche. It makes it easier to learn how to operate goods, buyers, and sellers and create high-quality service. We will help bring your idea to life. Our team specializes in developing marketplaces and implementing custom technical needs. Contact us to get a free consultation: https://jetsoftpro.com/contact-us/