 MYJET: Corporate Eco-System
Expertise:
UI/UX Design
Robotics, IOT & Mobile
Software/Product Development Life Cycle
Services:
Digital Business Transformation
Software Product Development
Application Support & Maintenance
Integration Services
Technology Consulting
QA & Testing
R&D & Innovation
UI/UX Design
Security Solutions
Mobile Application Development
Technologies:
IOS, ANDROID & XAMARIN
Kotlin
SwiftUI
AWS Amplify IoT Core
AWS Cognito User Pool
Combine framework
IoT Cloud service
Industry:
Media & Entertainment
Client Background
MyJet app is a new generation of back-office eco-system created by JetSoftPro team. An integrated platform for managing your work performance, MyJet easily adapts to the needs of every employee. Speed, ease of use, and reliability make MyJet app an effective tool for incorporating daily work.
Business Challenge
We needed a corporate mobile application that would unite functions from different corporate systems HRMS, time tracking, financial system, chat, etc., so employees have in their phones all necessary information and functions related to their work in the company. It has to back employees up in situations when they are out of the computer.
Solution
We created an App MyJet, that is already integrated with our HRMS's database. We developed an API for this integration, and employees have their own profiles with personal information, they can see their own available leaves, search the list of all employees and see colleagues' contact information. Also, we have a hardware part that is connected to the office door. Our employees can open office doors with the help of MyJet application and hardware combination, so there is no need in carrying keys for that.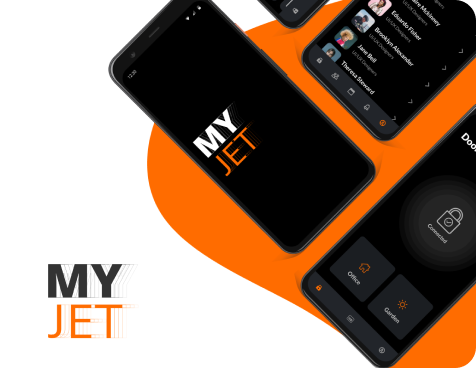 Value delivered by JetSoftPro
Digital Business Transformation
Superlative UI/UX design
Best Practice Development
First-Class Shopping Experience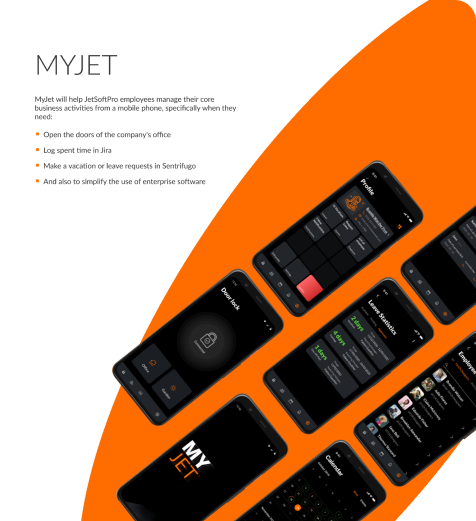 Product Overview
Client's Goals
One of the most interesting and popular features is the ability to open the office door from your phone/app. This was done using the AWS Amplify IoT Core service. The application communicates with a real device that receives signals to open the door through the IoT Cloud service.
The device for opening the door is based on a microcontroller with a Wi-Fi module and controls the relay responsible for opening the door. The cloud service operates on the MQTT protocol, which is specially designed to support unstable connections.
The exchange of data between the service, the application, and the devices is encrypted and is initiated only after verification of identification, so this link is also very well protected. In addition, the user will receive notifications about colleagues' birthdays, important corporate news, or changes in his/her status (vacation has been agreed upon, etc.).
Technical implementation
We created a Shopify application that provided a first-class shopping experience. Our team decided not to create a new plugin. Working with the Shopify CMS reduced our development time and allowed us to build on the existing structure. We created a way to add a huge number of additional fields to choose the best fitting cloth without slowing down the ordering process To make the online shopping process even more convenient, our team of designers created UI/UX mock-ups for the website using Adobe Photoshop.