 BJET: ERP System Based on ODOO for Enterprises
Expertise:
Big Data & Analytics
Cloud & Devops
UI/UX Design
Software/Product Development Life Cycle
Services:
Digital Business Transformation
Software Product Development
Application Support & Maintenance
Integration Services
Technology Consulting
QA & Testing
R&D & Innovation
UI/UX Design
Security Solutions
Technologies:
PYTHON
JavaScript
Azure
PostgreSQL
PIMCore
Werkzeug
Sentr
Docker/Kubernetes
GitFlow
Industry:
E-commerce
Food services
Finance & Banking
Retail & Telecom
Travel & Hospitality
Client Background
BJet ERP is a new generation of accounting, tax, management, and reporting systems created by JetSoftPro team. An integrated tool for managing your business performance, BJet easily adapts to the needs of any business. The flexibility of the system allows users to customize it to meet their specific business needs. Speed, ease of use and reliability make BJet ERP an effective tool in your daily work.
Business Challenge
Replacing 1C and Parus (Rarus) for Company Accounting and Management – Bjet is a new system adapted to the reality of doing Business. It tends to build upon the present functionalities and inculcate enhancements in them to suit your Business.
Solution
BJet is our product based on Odoo. It offers all tools for the financial management of a company in one kit. The flexibility of the system makes it adjustable for solving your specific business tasks, and owing to the speed, ease of use and reliability, BJet becomes an effective tool in your everyday work.
The system analyzes income and expenses by items in real-time. Controls contracts and payments. The received information quickly forms in reports and graphs. Convenient and fast reports in 2 clicks (P&L, Cashflow, Balance Sheet).
BJet and its modules can be used to make tracking and monitoring your remote employees easier. It tends to build upon the present functionalities and inculcate enhancements in them to suit your Business.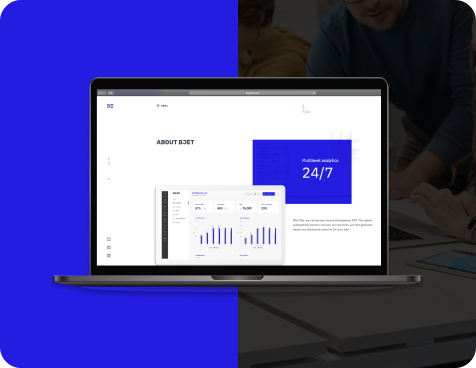 Value delivered by JetSoftPro
A comprehensive cloud solution for business development and management
Integrated tool that adapts for any type of business
Multilevel Real-Time Analytics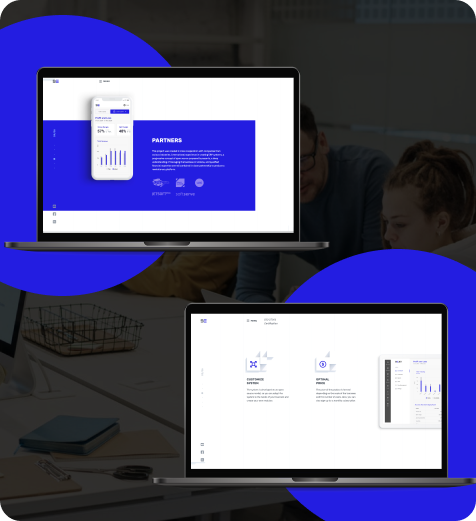 Product Overview
Client's Goals
Provide Appropriate Access to Required People 

 
In light of Safety Concerns, compartmentalizing their Data access is a must for Work-From-Home Employees. 
BJet Attendance App To Manage Remote Employees  

 
BJet Project App For Tasks Management role can create daily, weekly, monthly tasks for your remote employees. 
Ensuring Appropriate Team Involvement In Projects  

 
Since the employees who Work From Home are not constrained in an office space, it means the members do not have physical contact with each other. Subsequently, team management becomes an important concern for you. BJet allows managers to monitor tasks and attendance of the employees to make the model productive for your organization. 
Studying Daily Work Reports  

 
At the end of the day, it is not possible to monitor each task of each employee if the scope of your WorkFrom Home workplace is expansive. With BJet daily work reports module, instill the functionality of submitting daily work reports for the Work-From-Home Employees using BJet. 
Restaurants can maximize delivery services.  

 
Besides delivery options, additional features of such a solution can include an online storefront and a delivery app for customers. A call center is a solution, where the orders can be easily assigned to delivery helpers. And it can be integrated with kitchen management solutions. 
File transfer & Document sharing  

 
With BJet Documents, you can easily share, send, categorize, and archive scanned documents. You can also generate business documents like vendor bills, tasks, and product sheets for manufacturing. BJet has a fully integrated approval, control, and validation process, with activities, chatter, and action rules to make sure everything gets done by the right person at the right time. Using the email gateway, bills are created automatically, from a scanned document or from your vendor's email directly. Documents can be assigned to your colleagues, customers, or vendors and shared files and public folders with your clients, and let them import documents directly. Batch can be requested for approvals, changing folders, tagging, and assigning multiple files at once instead of one by one. 
Under the lock-down and quarantine, even accountants stay home, but they can proceed with their job if they have a self-hosted cloud reliable accounting solution. BJet Accounting modules will allow your business to do all its accounting tasks in one place. Supports online invoices, payments, reports, and all the basic accounting things needed by any SMB. 
Technical implementation
In a nutshell, Bjet is a modern easy scaled ERP system based on the Odoo framework. Bjet oriented into a few domains and propose to the client customize and extend Bjet core with needed modules. Bjet lives in the Azure cloud, so it is an easy-to-start and ready-to-go solution. Also, Bjet relies on a client-oriented approach, with customer support and a flexible environment setup regarding customer needs.