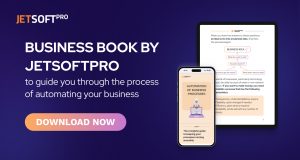 JetSoftPro has created a simple 100% free guide on how to begin automating your business processes to reduce costs and save time, based on our 20 years of experience in business automation.
What's inside the book?
Only specific information and detailed examples of successful automation in other businesses.
All tips are approved by business owners who have already gone through the automation stage.
Minimum of complex information and plenty of useful ideas that will help you plan automation.
Discover the power of business automation with JetSoftPro's business book!
Download the "Automation of Business Processes" book now for valuable information to streamline your operations.